About our company:
We are Yiwu Hongyuan Glass Co., Ltd., established in 1998, is a cosmetic packaging enterprise integrating production, research and development and sales. Our company is located
in Yiwu, the international trade capital of China. The company has many years of market demand experience and a perfect supply system. Our company mainly deals in high-quality
glass perfume bottles, food bottles, tube bottles, medicine bottles and a series of cosmetic packaging. In terms of creativity, we have a professional design team that can provide
customers with product design, mold opening and manufacturing feasibility assessment: In terms of production, advanced automated production line technology provides
professional glass painting, printing, bronzing, polishing and other processes.
Our assembly warehouse:
We have an assembly warehouse of 20,000 square meters with more than 100 workers. 500,000 sets of perfume bottles will be assembled and packaged every day, and there are 5
million sets in stock in the warehouse, please feel free to order from me.
Our office showroom:
Our showroom is more than 1,000 square meters, displaying various glass perfume bottles, which are updated from time to time.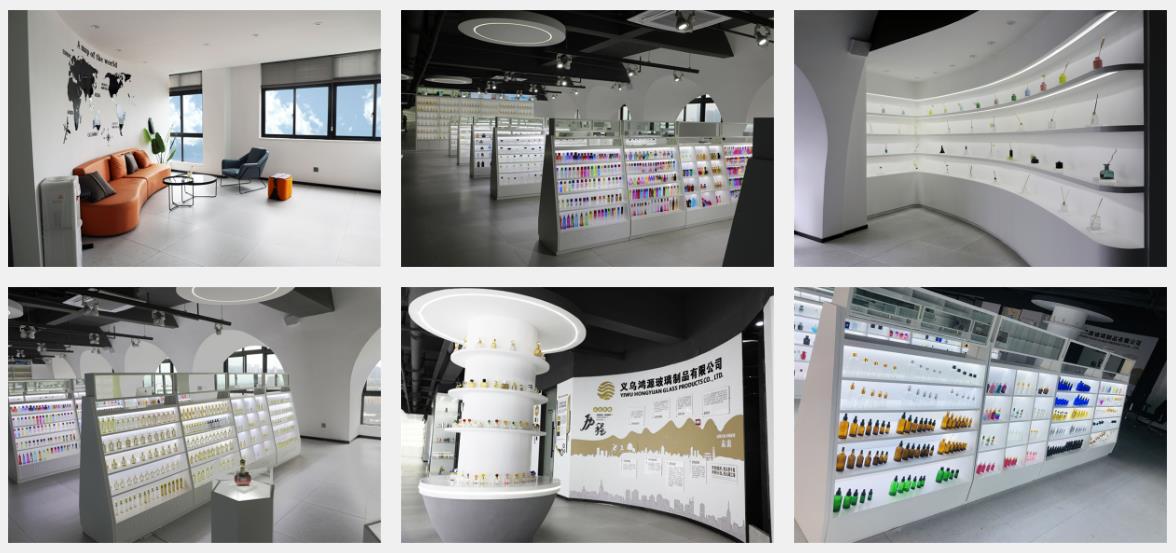 Our team:
We are a young and energetic team, and we will hold company team building activities from time to time. Enhance the loyalty and trust of employees and management to the
enterprise, and deeply delay the relationship between individuals, individuals and organizations, and individuals and nature through experiential exploratory activities, and tap
their potential, thereby generating a positive outlook on life.

Our exhibition:
2012 can be said to be the first year for Yiwu Hongyuan Glass Products Co., Ltd. to participate in the exhibition. Yiwu Hongyuan Glass Products Co., Ltd. was invited to participate
in the Dubai International Beauty Exhibition with its excellent corporate strength and reputation. Companies can communicate and learn from their peers around the world. Since
then, the company has made a name for itself around the world every year. Subsequently, the company has successively participated in international industry exhibitions in Las
Vegas, Russia, Turkey, Morocco, Brazil, Southeast Asia and other countries, laying a solid foundation for the company's development.
---
Post time: Aug-31-2022